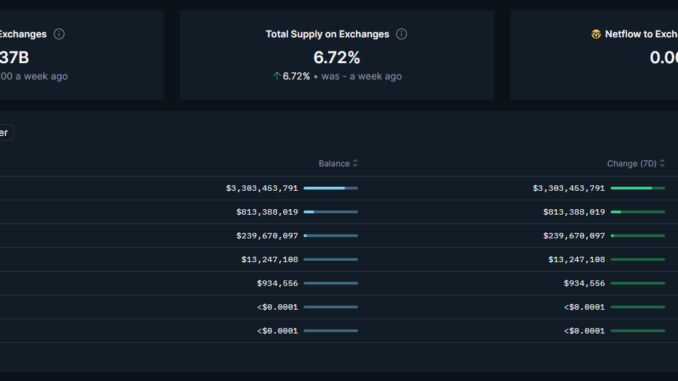 An Ethereum developer has managed to get ChatGPT to launch its own ERC-20 token, AstroPepeX (APX), modeled off data from the top traded tokens on Uniswap.
X (previously Twitter) user CroissantETH unpacked details of how they integrated ChatGPT into a custom application using OpenAI's API. They told it to design and issue its own ERC-20 token with an estimated market cap of $3.5 million.
Data from Etherscan reveals that there are now over 2,300 APX holders that have carried out over 17,700 transactions since the token mint on Sept. 20.
What if ChatGPT could deploy its own token?

Surely this shouldn't be possible, right? pic.twitter.com/Wz5OvakwxC

— ‍.eth (@CroissantEth) September 19, 2023
The developer managed to get ChatGPT to be able to deploy smart contracts on the Ethereum network after feeding it data on the top 10,000 traded tokens on Uniswap.
"In essence, it asks ChatGPT to form an ERC-20 token using Open Zeppelin standards. The token name & other parameters are designed to be passed in by values given by GPT in the code's constructor." 
CroissantETH also explained how ChatGPT's first attempts at potential names for its ERC-20 token were not ideal. The developer's solution was to integrate data from the top traded Uniswap tokens to give the large language model a more natural-sounding output.
"GPT-4 evidently had a much better understanding of crypto culture while also offering its own creativity in responses."
To ensure the token was made solely by GPT before deploying the contract, CroissantETH addressed ownership of the private keys and the contract with a solution that ruled out any human intervention.
"Once the contract is deployed, ownership is immediately revoked and 100% of the tokens are added alongside 2 ETH to liquidity on Uniswap upon creation."
Thus AstroPepeX was created, sending 65,000,000,000 APX tokens and 2 Ether (ETH) in liquidity to Uniswap's decentralized exchange.
It's time to let GPT takeover.

I just ran the script, & it created:

AstroPepeX

65,000,000,000$APX

0xed4e879087ebD0e8A77d66870012B5e0dffd0Fa4

(Note: There is a require condition that limits transfers >0.5% of the supply)

Enjoy! pic.twitter.com/FjoQpDdhM3

— ‍.eth (@CroissantEth) September 19, 2023
Using exclusive access to blockchain analysis tools from Nansen 2's beta, Cointelegraph confirmed that APX tokens have indeed moved onto decentralized finance platforms like Poloniex and centralized exchanges including Bitget, MEXC and LBank.
Poloniex also promoted the token's listing on X, opening deposits and trading on its exchange on Sept. 21.
AstroPepeX #APX is Poloniex newest listing! @CroissantEth

Deposit will be opened on September 21st, 12:00 (UTC)

September 21st (UTC), Post-only mode will be enabled on 12:00 & Full trading will be enabled on 13:00https://t.co/d17DLkFcUL#NewListing #crypto pic.twitter.com/zzKPVFSVoZ

— Poloniex Exchange (@Poloniex) September 21, 2023
AstroPepeX's website links to its Ethereum address and social media handles. Among these is a community Telegram group with some 1,500 members, as well as a BuyTech bot posting automatic updates of APX trades and the current market capitalization of the token. CroissantETH later tweeted that the token does not have an official Telegram group.
Collect this article as an NFT to preserve this moment in history and show your support for independent journalism in the crypto space.
Magazine: Make 500% from ChatGPT stock tips? Bard leans left, $100M AI memecoin: AI Eye