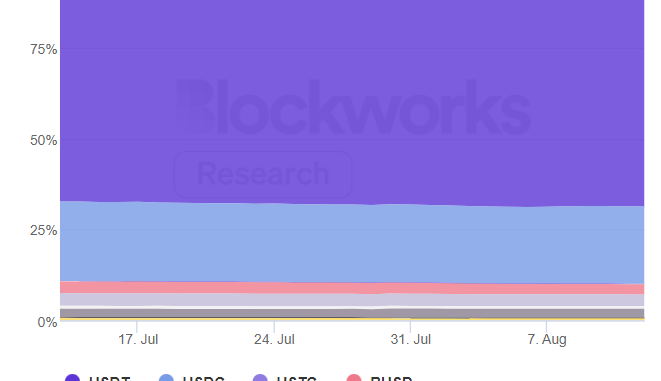 Stablecoins are helping to maintain dollar supremacy as international users drive demand for dollar-denominated cryptocurrencies.
The trend stands in contrast to narratives that depict crypto as a threat to the dominance of US dollars.
Non-US Markets Drive Demand For Dollar-Pegged Stablecoins
In comments this week, Circle CEO Jeremy Allaire reported that 70% of demand for USDC comes from outside the US. 
Noting that the fastest growth in adoption has been observed in emerging markets, he said that "demand for safe, transparent digital dollars is strong," across Asia, LATAM, and Africa.
The largest stablecoin issuer, Tether, has also emphasized emerging markets as central to the continued adoption of USDT.
According to the firm, people in countries with volatile domestic currency use stablecoins to hedge against inflation without needing a USD-based bank account or holding cash.
Stablecoins Can Help Maintain Dollar Supremacy Says Ex-Binance Exec
In an interview with CNBC on Friday (Aug. 11), Brian Brooks, the former CEO of Binance US, discussed rising international demand for dollar-pegged stablecoins:
"Citizens in countries that have high inflation are really strongly demanding dollar-denominated products to keep their money safer after they've earned the money […] In many countries where you can't get a dollar bank account, stablecoins are your best solution."
Moreover, he implied that the US could leverage this demand to "make the dollar relevant again." At a time when governments around the world want to limit the dollar's role in the global financial system, Brooks argued that stablecoins could cement its position. 
However, he warned that the opportunity could be lost if the country doesn't ratify an appropriate regulatory framework. Criticizing US policy on the issue, he said the government had suppressed stablecoin adoption by failing to regulate it properly.
Stablecoin Issuers Now Critical to Global Economy
Advocates of stablecoin regulation like Brooks point to their growing role in the global economy, arguing that they should be subject to the same oversight as banks.
Certainly, the $81.8 billion in assets under management that Tether reported in May puts it on par with a small American bank or even a large bank in an emerging economy. Yet few banks come close to Tether's near-monopoly of the stablecoin market.
Blockworks data shows that USDT accounts for over two-thirds of the total stablecoin supply, and its dominance has only grown in recent months. Often, this has been to the detriment of alternatives like BUSD, which has seen its market share slide.
What's more, USDT's closest rivals are all also denominated in US dollars. By comparison, the market for digital pounds or euros, for example, is tiny.
The US dollar is an undeniably powerful force in the global economy. And if dollar-pegged stablecoins continue to dominate and stablecoin adoption continues to rise, it will remain so.
Disclaimer
In adherence to the Trust Project guidelines, BeInCrypto is committed to unbiased, transparent reporting. This news article aims to provide accurate, timely information. However, readers are advised to verify facts independently and consult with a professional before making any decisions based on this content.