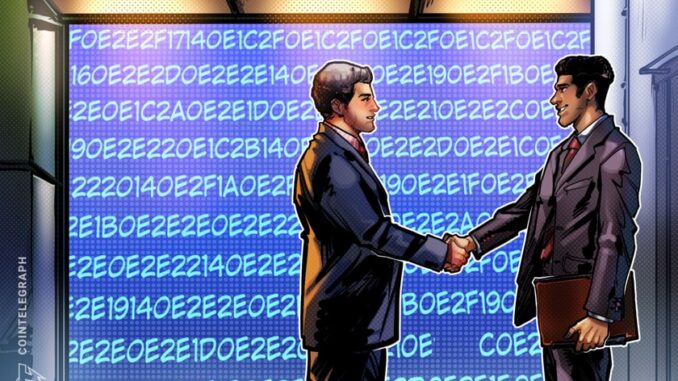 Google Cloud has joined forces with a Web3 startup to develop user-centric developer tools for decentralized finance (DeFi) to lower the barrier of entry into the decentralized world.
The DeFi infrastructure provider Orderly Network has teamed up with Google Cloud to develop off-chain components of DeFi infrastructure focused on tackling self-custody and transparency challenges. Orderly will be a DeFi infrastructure provider, available on Google Cloud Marketplace.
Google Cloud told Cointelegraph that the partnership was struck in light of increasing interest from clients exploring blockchain workloads on Google Cloud.
Rishi Ramchandani, Head of APAC Web3 GTM, Google Cloud Asia Pacific told Cointelegraph that the surge in demand highlights the necessity for a tailored Web3 product suite. He added:
"Working with Orderly Network to build robust infrastructure will help address the gaps in DeFi adoption and growth, and ensure scalability in the continuously evolving space through the development of secure and user-centric enterprise developer tools."
With blockchain technology being at the centre of the fintech revolution, many in the financial industry are exploring decentralized technologies, including JP Morgan which has been actively testing various blockchain-based solutions including DeFi ones. The traditional banking systems started showing interest in blockchain tech quite early with one report from 2021 suggesting that 55% of the top-100 banks have some exposure to the decentralized tech.
Orderly hopes to distribute the DeFi load into on-chain and off-chain components to ensure a balance between speed with sufficient decentralization. The firm claimed this distribution would streamline operations without compromising the inherent advantages of a decentralized system. These off-chain components will ensure that crucial interactions are carried out on-chain while interactions that can be efficiently handled off-chain are processed away from the main blockchain.
Cointelegraph got in touch with Arjun Arora, COO at Orderly Network, to understand how their collaboration with Google will help in making DeFi mainstream. Arora told Cointelgraph that to achieve mainstream adoption, blockchain technology must outperform current solutions and Orderly is building a trading Lego for seamless dApp integration across blockchains with a focus on merging the best of decentralzied exchanges (DEXs) and centralized exchanges (CEXs.)
"Our collaboration with Google ensures our matching engine competes with centralized systems seen in traditional finance, but the rest of our infrastructure and liquidity network retains all the benefits of self-custody and transparency seen in decentralized finance."
DeFi's biggest challenge comes from the entry barrier and the security issues that have plagued the ecosystem for a long. With the likes of Google Cloud entering the DeFi infrastructure market with Orderly as its key partner, the collaboration aims to build a secure environment and tools to resolve these issues.