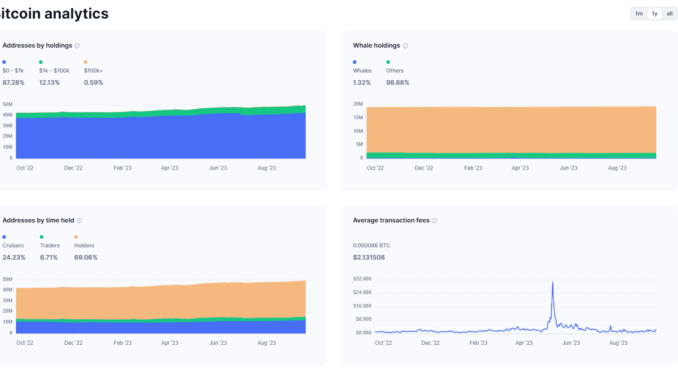 On-chain data suggests that Bitcoin (BTC) holders are accumulating BTC with exchange holdings down to yearly lows and the percentage of inactive BTC supply at all-time highs.
According to Glassnode's Bitcoin supply last active chart, inactive BTC that has not moved from an address for more than one-, three- and five-year time frames has been at all-time highs since July 2023.
These metrics are mirrored by Bitcoin analytics from CoinMarketCap, which tracks wallet addresses by how long they've been holding BTC. An estimated 69%, or 36.8 million addresses, have held BTC for over a year.
CryptoQuant charts also reflect Bitcoin outflows from exchanges that have steadily declined from July 2021, with just over 2 million BTC remaining on exchanges.
The CoinGlass Bitcoin on exchanges tracker breaks down the circulating BTC held by major centralized exchanges. 
Binance tops the list with some 543,281 BTC on its books, but the exchange has seen significant Bitcoin outflows over the past 30 days, with 21,645 BTC withdrawn in the last month.
Coinbase Pro's BTC balance of 435,530 BTC leaves it second on the list, with the United States-based exchange also having 3,612 BTC withdrawn from its platform over the last 30 days.
Related: Bitcoin price all-time high will precede 2024 halving — New prediction
OKX is the only exchange in the top 10 that recorded a significant inflow of Bitcoin in the last 30 days, with 4,630 BTC being moved onto the platform over the past month.
Market commentators and analysts have delivered lofty predictions of the potential value of Bitcoin, with its highly-anticipated mining reward halving set to take place in 2024.
Collect this article as an NFT to preserve this moment in history and show your support for independent journalism in the crypto space.
Magazine: Recursive inscriptions: Bitcoin 'supercomputer' and BTC DeFi coming soon