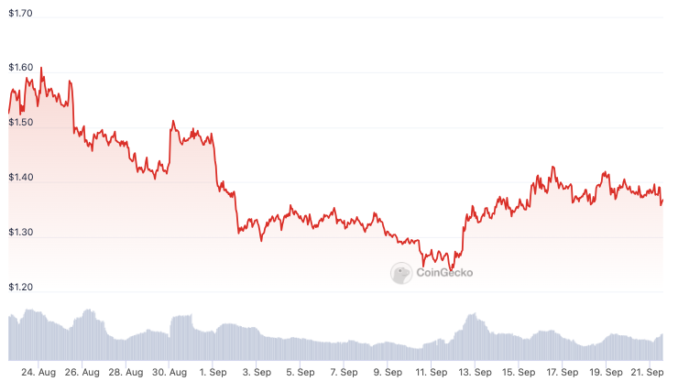 Ethereum layer-2 scaling solution Optimism has disclosed plans to sell 116 million OP tokens to seven private buyers for treasury management purposes.
At current prices, the sale will see $159 million worth of OP tokens change hands.
Starting today, there will be several transactions totaling approximately 116M OP tokens. We're sharing as a heads up to our community that these are planned transactions.

— Optimism (✨_✨) (@optimismFND) September 20, 2023
While some observers feared the sale would bring about depressed prices from Optimism "dumping" its tokens on the market, it seems unlikely that the sale of the tokens will have any material impact on the price of OP due to the sale being private.
Additionally, the tokens are being sourced from the unallocated portion of the OP token treasury, meaning that they are not part of the circulating supply.
As explained on the Optimism website, the tokens are subject to a two-year lockup period, meaning that buyers are unable to sell them on secondary markets.
Buyers have, however, been granted permission to delegate the tokens to unaffiliated third parties for governance purposes.
Related: USD Coin officially expands to Base and Optimism networks
According to Optimism, this sale is part of its original plan and is completely accounted for in its "original working budget of 30% of the initial token supply."
The sale comes just two days after Optimism announced its third airdrop, where 19.4 million OP tokens were allocated to more than 31,000 addresses that took part in delegation activities relating to the network's decentralized autonomous organization (DAO), Optimism Collective.
Today Optimism is announcing OP Airdrop #3.

19M OP allocated to over 31k unique addresses to reward positive-sum governance participation in the Collective.

Read on for details on eligibility criteria and allocations.

— Optimism (✨_✨) (@optimismFND) September 18, 2023
Optimism, Polygon and Arbitrum stand as the most heavily used layer-2 scaling solutions in the industry.
Despite trailing behind Arbitrum in terms of total value locked, Optimism saw its total transactions eclipse that of Arbitrum in August, driven largely by a surge in activity from Coinbase's sandbox and the identity verification project Worldcoin.
Magazine: Are DAOs overhyped and unworkable? Lessons from the front lines