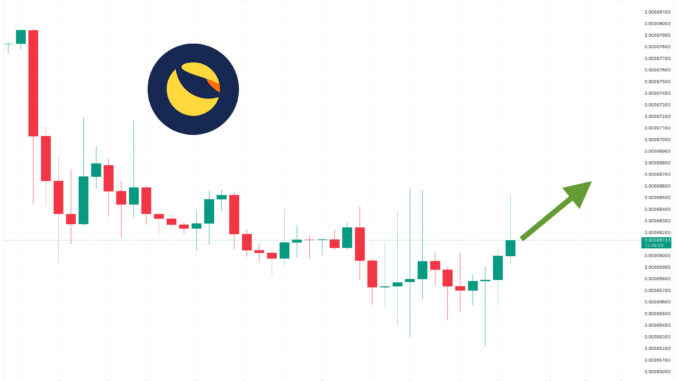 The price of Terra Luna Classic (LUNC) has jumped by nearly 9% in the past 24 hours, following the acceptance of two governance proposals that would help boost it and its sister stablecoin, USTC.
At $0.00006136, LUNC is up by 7% in a week but down by 4% in the last 30 days, with the altcoin also having declined by 57% since the beginning of the year.
However, the accepted proposals calling for the re-pegging and burning of USTC, it may not be long before LUNC returns to some of its former price levels, making current holders a considerable profit.
Terra Luna Classic Price Prediction as LUNC Blasts Up 9% and Becomes Best Performer – What's Going On?
LUNC's indicators support the notion that the altcoin could be on the brink of a big rally, seeing as how they've been depressed for so long.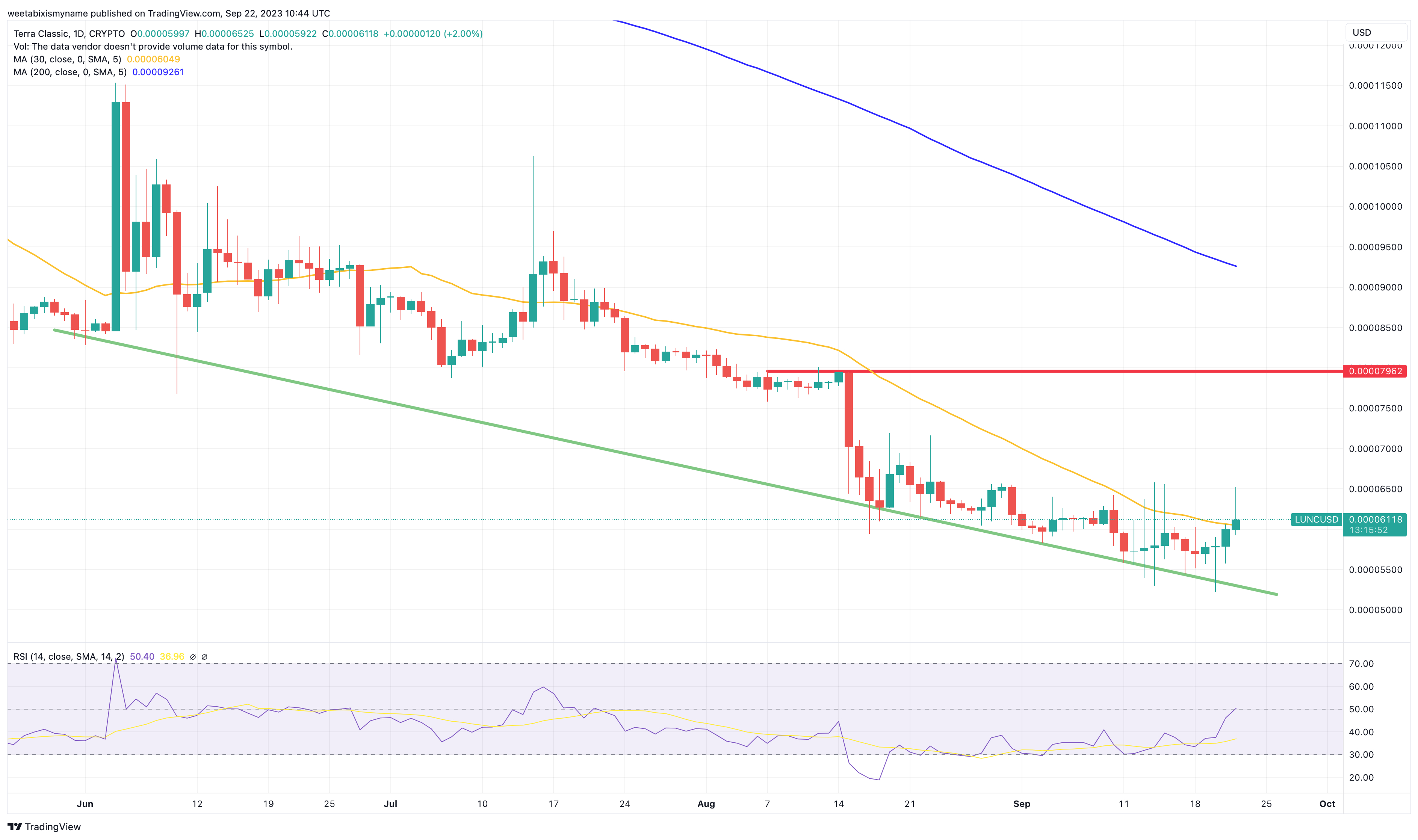 LUNC's relative strength index (purple) has encouragingly risen to 50 today, up from 30 only a week or so ago, providing a sign that buying momentum is returning to the token.
On the other hand, LUNCs 30-day moving average (yellow) remains far below its 200-day average (blue), yet this could be taken as a sign that the coin has been drastically oversold and is about to regain lost ground in a  big way.
As positive as things look right now, investors should bear in mind that, for pretty much the entire year, LUNC has been on a consistent downwards trajectory, implying that today's jump may be little more than a blip in the context of inescapable decline.
This negativity aside, the Terra Luna Classic community has had something positive to celebrate in the past 24 hours, with two key governance proposals being accepted.
This includes Proposal 11784, which calls for the complete cessation of all minting and reminting of USTC, a key step in re-pegging the stablecoin to $1.
It also includes Proposal 11785, which asks Binance to begin burning USTC (in addition to burning LUNC).
Again, this would help with the re-pegging of USTC, and by extension it would also boost LUNC's price.
However, it needs to be remembered that the acceptance of these two proposals does not automatically mean that what they call for will happen.
Binance has to agree to the USTC burning plan, obviously, while developers will have to implement the necessary changes to stop the minting of new USTC.
As such, LUNC holders shouldn't count their chickens before they hatch, even if yesterday's news is positive.
But assuming that the two proposals are actually put into action, LUNC could easily rise back to $0.000080 or $0.000090 in the next few weeks.
New Presales Bring New Rallies
Because LUNC remains in an uncertain position, and because it has spent much of 2023 declining, many traders may be better off considering alternatives.
And even though the bearish market this year has reduced the available supply of profitable coins, opportunities have remained, with presale tokens proving a good source of above-average rallies.
The latest exciting presale coin to hit the market is Meme Kombat (MK), a new ERC-20 token that will pit a wide selection of popular memes against each other in AI-controlled battles.
It kicked off its presale yesterday, with the token already beginning to attract growing interest from investors.
What's appealing about Meme Kombat is that its platform will actually enable MK holders to bet on automated battles between various memes, with players able to bet against each other or against the game itself.
Victors will receive rewards in the form of MK tokens, which can also be used for staking, earning holders a passive income.
Yet staking MK tokens will also enable users to bet on the outcome of automated battles, providing an added incentive for investors to acquire the new cryptocurrency.
As for its tokenomics, MK will have a total supply of 12 million tokens, with 50% going towards the presale.
Another 30% has been allocated to staking and battle rewards, with 10% reserved for community rewards and the final 10% going towards liquidity.
This decentralization, as well as the existence of community rewards, will ensure a high level engagement on the part of Meme Kombat supporters and followers, something which will help it outcompete its rivals in the meme token category.
Interested parties can join the presale by visiting the official Meme Kombat website and connecting their software wallets, with 1 MK selling for $1.667.
Given the limited supply of MK tokens, this price could easily rise much higher once the sale ends, making the coin one of the most successful new tokens of the year.
Visit Meme Kombat Now
Disclaimer: Crypto is a high-risk asset class. This article is provided for informational purposes and does not constitute investment advice. You could lose all of your capital.